Orleans Organic Dining Table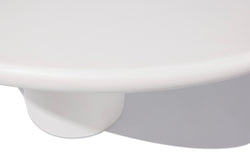 In stock - delivers in 7 to 10 business days

Safe & convenient delivery Learn more

Up to 22.5% off for trade partners. Become a partner.
Product Highlights
Introducing the Orleans Dining Table, a masterpiece from Industry West's Contour Collection. Designed exclusively by Belgian visionary Dimitri De Vocht, this table seamlessly melds art and utility. Crafted with precision using plaster and concrete, it's the epitome of modern sophistication. Discover the Contour Collection and elevate your dining space today.
Assembly & Care
Assembly is not required.
To avoid damaging the microcement table, do not drag heavy objects over the surface. Always use coasters for hot and cold cookware (especially when made of stainless steel) to prevent direct contact with the surface. Sharp objects should also be avoided. 
It is recommended to use coasters or table linens to prevent spills. In case of any spillage, remove it immediately using a damp cloth and pH neutral cleaner. 
To clean the microcement tabletop, use a wet cloth to wipe away weak acid and weak alkaline pollutants like oyster sauce, soy sauce, coffee, red wine, cola, oil stains, tea stains, etc. Any spills should be removed promptly. 
Although microcement is highly tolerant of chemical agents, it's best to avoid direct cleaning with detergents and other high-strength cleaning products, as they can damage the protective film of the table surface. We recommend mixing an appropriate amount of neutral soap in warm water (the best ratio is 20:1), wetting a soft cloth and when wiping the table down. 
Keep the microcement table dry at all times. After eating, wipe it with a slightly damp, soft cloth, and then dry it with a dry cloth or napkin to ensure it remains dry. 
Do not use an oil pen to paint or write on the surface of the microcement tabletop, as (more...)
Returns & Warranty
Our industry-leading warranty covers a full year of manufacturing defects from time of receipt, damage to domestic shipments, and an average of 3-5 years on indoor furniture construction, dependent on material. Final sale items, custom orders, and damage from improper use are not covered under warranty. While we ensure the highest quality of outdoor furniture, our UV-resistant products are not fade-proof and may experience normal wear due to exposure. For a comprehensive list of coverage, please visit our warranty page.
Orleans Organic Dining Table
Product Details
| | |
| --- | --- |
| Product Name | Orleans Organic Dining Table |
| Price | $4,495 |
| Shipping Status | In stock - delivers in 7 to 10 business days |
| DIMENSIONS | 117.7" Wide x 50" Deep x 29.5" High |
| Weight | 238 lbs |
| WEIGHT | 238.0 lb |
| SKU | TC04-299/LT/RD-KIT |
| Description | Introducing the Orleans Dining Table, a masterpiece from Industry West's Contour Collection. Designed exclusively by Belgian visionary Dimitri De Vocht, this table seamlessly melds art and utility. Crafted with precision using plaster and concrete, it's the epitome of modern sophistication. Discover the Contour Collection and elevate your dining space today. |